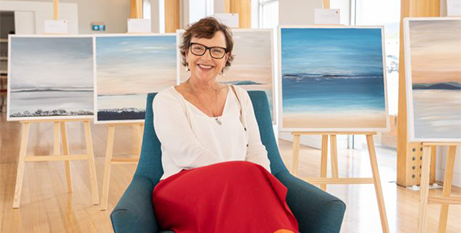 Drawing on faith as a source of inspiration was behind Tasmanian artist Catherine Sandric's recent art exhibition in Hobart. Source: Hobart Archdiocese.
The Sacred Landscapes exhibition at the Waterside Pavilion earlier this month featured a collection of 12 Tasmanian landscapes, all water-based acrylic paintings on canvas.
The pieces display real moments in time, captured as quick sketches using watercolour pencils, ink or pen along various parts of Tasmania's coastline.
Living family life in the coastal area of Kingston Beach south of Hobart, Ms Sandric said she has always been inspired by the breathtaking sea and landscape that surround her home.
Her proximity to three beaches gave her the opportunity to walk along them doing little sketches.
Ms Sandric explained that the exhibition portrayed a sense of who she is, as well as her perspective on the interconnectedness of humans and the natural world.
"It's so inspiring and uplifting and gives you time to come to stillness, because you're just surrounded by beauty.
"So you have to be grateful for that, and what that offers you. That gratitude then becomes, for me, a prayer," she explained.
"The painting is a prayer because you are working with the materials and you're very present in the moment – and God's going to be present in creating the art reflecting his creation.
Ms Sandric added that through her paintings, she hoped to showcase the notion of creation as a gift given out of God's great abundance and love.
"I hope this exhibition can be an invitation to reflect on and wonder about the gift of what is sacred in our fragile, natural world," she said.
Money raised from the Sacred Landscapes Exhibition will be donated to Edmund Rice Camps Tasmania.
FULL STORY
Local Tasmanian artist's exhibition displaying the gift of creation (Hobart Archdiocese)