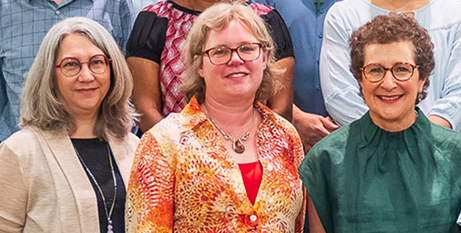 Renee Kohler-Ryan says that as a lay theologian and mother of five, she was struck by the significance of her inclusion in the upcoming Synod of Bishops. Source: The Catholic Weekly.
Professor Kohler-Ryan, national head of philosophy and theology from the University of Notre Dame Australia, was this month named as a non-bishop voting member of the Synod.
She is one of 10 Oceania representatives who will join more than 360 cardinals, bishops, priests, religious and other lay men and women in having a vote at the Synod.
"We've had laity in the professions, taking on key roles in Church governance, laity all along have been doing the absolutely essential work in parishes and hospitals and schools, carrying out their apostolic mission," Professor Kohler-Ryan said.
"But this moment of bringing the laity into Church decision-making processes is unique, and it now means the laity need to be quite aware not only that this is a momentous thing, but also of the responsibility that we hold to do what is right for Christ's Church."
Pope Francis' announcement of the participants for the October assembly of the Synod on Synodality cemented Australia's place as a key driver of the global synodal process, with Australians represented strongly at all levels.
Other Australian non-bishop voting members are National Centre for Pastoral Research director Dr Trudy Dantis; National Aboriginal and Torres Strait Islander Catholic Council chair John Lochowiak; Diocese of Broken Bay chancellor Kelly Paget; and Syro-Malabar Eparchy of Melbourne chancellor Fr Sijeesh Pullenkunnel.
Australia will also have a number of experts and facilitators at the synod, including ACU academics Dr Sandie Cornish and Fr Ormond Rush, key Plenary Council facilitator Br Ian Cribb SJ, and member of the synod methodology commission Adjunct Professor Susan Pascoe.
FULL STORY
Synod will be an Aussie affair (By Adam Wesselinoff, The Catholic Weekly)