Talk to us
CathNews, the most frequently visited Catholic website in Australia, is your daily news service featuring Catholics and Catholicism from home and around the world, Mass on Demand and on line, prayer, meditation, reflections, opinion, and reviews. And, what's more - it's free!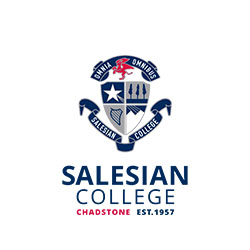 Job Description
Full-time Contract with possibility of Ongoing.
Commencing Term 2 2023.
The College is seeking applications for a Mathematics Teaching position from practitioners who:
Are invested in facilitating the development of all aspects of our students
Work collaboratively and collegially
Are committed to improving pedagogy
Utilise data, feedback and reflective practices to lead innovation and solve problems
Teaching Subject
Mathematics (Year 10 and possibility of VCE)
Vision
A dynamic, joy-filled Catholic learning community, Salesian College inspires all boys to strive for excellence in the spirit of Don Bosco.
Mission
Salesian College Chadstone is a Catholic School for boys in the Salesian tradition. We welcome all boys and their families, celebrate diversity and promote relationships built on mutual respect. All in the community are treated as valued partners in laying the foundation for life-long learning. We celebrate the achievements of all within an environment of joy and optimism.
Salesian College Chadstone is committed to building a caring community which:
Ensures that a Catholic and Salesian ethos underpins all aspects of College life within an atmosphere of respect for all
Promotes initiative, a spirit of enquiry and a desire to strive for academic excellence through innovative and supportive teaching
Provides students and staff with every opportunity to develop all aspects of each individual
Practises wise governance, strategic leadership and fair processes; and
Works in partnership with parents, families, past pupils, parishes, educational and ecclesiastical institutions and other civic agencies.
Values
Integrity
Respect
Belonging
Joy
Dynamism
Salesian College is a Child Safe School in accordance with Ministerial Order 1359
Salesian College provides employees, volunteers and clergy with regular and appropriate opportunities to develop their knowledge of, openness to and ability to address child safety matters. This includes induction, ongoing training and professional learning in accordance with Ministerial Order 1359 to ensure that everyone understands and is compliant in their professional and legal obligations and responsibilities, and the procedures for reporting suspicion of child abuse and neglect.
POSITION
The Classroom Teacher is responsible for creating a safe, positive and disciplined learning environment:
in the classroom
in co-curricular activities
in interacting informally with student
This position requires all teachers to:
have a high level of knowledge of contemporary learning for the 21st
century
be able to transform pedagogy to ensure that all teachers can maximise
student learning and adopt a repertoire of techniques appropriate to
the needs of each individual learner
be able to assist the College leadership in creating optimum learning environments within the College
demonstrate a deep understanding of the learner of the 21st century
have a deep professional knowledge, an evident enthusiasm for their work
and a strong belief that all students can learn
Key Selection Criteria
The Successful applicant will demonstrate evidence of:
A capacity to understand and animate Catholic identity, Salesian charism and College values in all aspects of College life.
A commitment to Child Safety and the welfare of young people and a strong knowledge and understanding of Child Safety legislation and responsibilities.
Knowing students and how they learn.
Knowing the curriculum content and how to teach it.
Planning for and implementing effective teaching and learning.
Creating and maintaining supportive and safe learning environments.
Assessing and providing feedback and reporting on student learning.
Engaging in professional learning.
Engaging professionally with colleagues, parents/carers and the community.
Applicants should submit:
A covering letter of no more than one page outlining why the application is being made.
Curriculum Vitae.
Response to the Selection Criteria (responses to the criteria
should not exceed two A4 pages).
The names and contact details of two relevant referees.
Please note, applications will not be accepted if all requirements are not submitted.
For more information and to apply visit:
Other jobs you may like