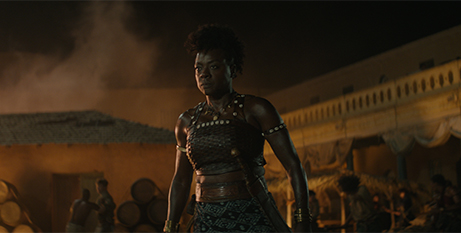 The Woman King tells the remarkable story of the Agojie, the all-female unit of warriors who protected the West African Kingdom of Dahomey in the 1800s. Source: Jesuit Media.
Inspired by true events, the film follows the emotionally epic journey of General Nanisca (as she trains the next generation of recruits in the West African territory of Dahomey, now part of the country of Benin.
Dahomey is presented as a prospering country, with the film's opening explaining the historical context, the various tribes and nations surrounding the territory. A key issue is the African slave trade, with the African rulers themselves negotiating with the British and Brazilian slave traders.
Warfare, too, is part of the culture. The film opens with a raid, fight and massacre, setting a tone for what is to happen. But what is different, is that the fierce and determined leader of the raid is a female warrior, Nanisca (Davis).
For two centuries, the female warriors, the Agojie, have been defenders of the kingdom. Nanisca has spent her adult life training the warriors. There are quite a number of scenes depicting the physical and psychological demands of the training, the self-sacrifice of the women who do not marry and must commit completely to the Agojie.
In some ways, the action resembles the action from a Marvel movie which in some way diminishes the intended overall impact of a serious look at an African nation in the 19th century.
The Woman King: Starring Viola Davis, Thusa Mbedu, Lashana Lynch, Sheila Atim, John Boyega, Hero Fiennes Tiffin, John Boyega, Jordan Bolger, Jimmy Odukoyo, Jayme Lawson. Directed by Gina Prince-Bythewood. 135 minutes. Rated M (Mature themes and battle violence,)
FULL REVIEW
The Woman King (Jesuit Media via Australian Catholics)