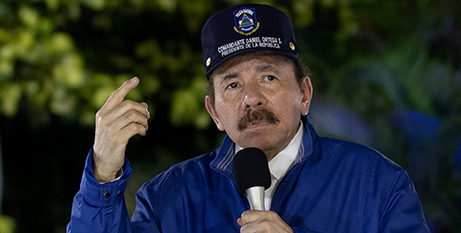 Nicaraguan President Daniel Ortega blasted Catholic leaders as a "gang of murderers" in comments amping up persecution of the Church and scorning Pope Francis' call for dialogue in the Central American country. Source: CNS.
In a fiery address, Mr Ortega took aim at Nicaragua's Catholic bishops for promoting democracy as an exit from the country's political crisis, alleging without proof that they called on protesters to kill him during the 2018 protests – which his regime violently repressed.
He called the bishops and Pope Francis "the perfect dictatorship" then asked, accusatorially, "Who elected the bishops, the Pope, the cardinals?"
He continued in the September 28 speech marking the 43rd anniversary of the National Police: "With what moral authority do they speak of democracy? Let them start with the Catholic vote … Everything is imposed. It's a dictatorship, the perfect dictatorship. It's a tyranny, the perfect tyranny."
Catholic clergy in Nicaragua have remained mostly silent as Mr Ortega – who won elections in 2021 after disqualifying and imprisoning opposition candidates – has persecuted priests and bishops speaking out on issues of human rights and democratic deterioration. The government also has closed Church-run charitable and education initiatives, along with Catholic radio stations, and expelled priests and nuns, including the Missionaries of Charity.
"What ignorance! Such lies and such cynicism. A dictator giving lessons on democracy," tweeted Auxiliary Bishop Silvio José Baez of Managua, who left the country for safety reasons in 2019. "Someone exercising power in an illegitimate way, criticising the authority that Jesus granted his Church; someone who is atheist, regretting that he doesn't feel represented by the Church."
FULL STORY|
Nicaragua president calls Church a dictatorship, bishops 'murderers' (By David Agren, CNS)