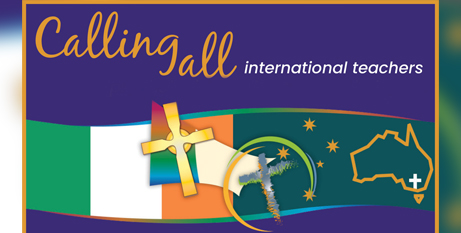 Education leaders from two regional Victorian dioceses will travel to Ireland this week in a bid to recruit teachers for local schools, as the struggle to fill vacancies continues. Source: Bendigo Advertiser.
Catholic Education Sandhurst chief executive Paul Desmond and Ballarat Diocese executive director Tom Sexton will spend 11 days in Ireland presenting in six towns and cities, including the Dublin Jobs Expo, to lure Irish teachers to Victoria.
Mr Desmond said Ireland was a logical place to start international teacher recruiting because of the similarity between Irish and Australian teacher training and its Catholic system of schooling.
He said Irish people embodied a spirit of adventure and a love of travel across the world.
There are hopes at least 14 new teachers will be sourced out of the trip to fill vacancies across the Sandhurst Diocese.
Urgent efforts by governments across Australia to remedy the shortfall in teachers cannot come quick enough for the two regional Victorian education leaders.
Mr Sexton said it was well known that Irish teachers come to Australia every year.
"COVID impacted on that but they are starting to come back and what we are trying to do is attract those coming to Australia to specifically come to Ballarat and Sandhurst," he said.
The recruitment tour will visit Maynooth, Waterford, Cork, Dublin, Limerick and Galway.
The teacher shortage is particularly acute in smaller Catholic schools.
Mr Sexton hoped some could be processed quickly enough to be able to start positions on the first day of term one next year.
FULL STORY
Diocese of Sandhurst turns to Ireland in desperate search for teachers (By Michelle Smith, Bendigo Advertiser)
RELATED COVERAGE
Sandhurst and Ballarat Diocese seek teachers from Ireland to fill gaps in Catholic schools (ABC News)