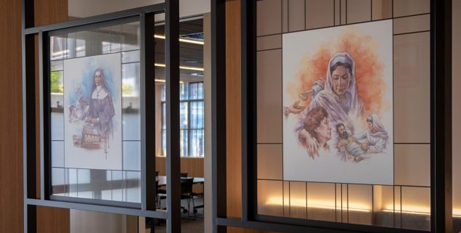 One of the highlights of the blessing and opening of the newly renovated Sisters of the Good Samaritan Congregational Centre in Glebe recently was the unveiling of a series of specially commissioned artworks, The Ministerial Women, by Terry St Ledger. Source: The Good Oil.
The etchings depict Mary of Magdala – Apostle to the Apostles; Phoebe – Deacon, as named by St Paul; St Frances of Rome – Benedictine Oblate; Martha Sarahes – a Good Samaritan Sister and Pacifican; and St Josephine Bakhita – Seeker of Freedom.
"They are truly beautiful," said Congregational Leader Sister Patty Fawkner during the Blessing and Opening liturgy.
Based in Brisbane, Mr St Ledger said he was delighted to receive the commission and was looking forward to coming to Sydney and seeing his works hanging in their new home, the beautifully renovated and restored historic Toxteth House.
"I'm very honoured that my artwork is hanging in such a beautiful space," he said.
Mr St Ledger has had a long association with the Catholic Church in the Archdiocese of Brisbane, providing artwork for the cover of Liturgy Brisbane's annual title, Break Open the Word, a resource which is well known and loved in parishes around Australia.
He also provides artwork for Liturgy Brisbane's Daily Mass Book, and other work.
The Ministerial Women etchings are mixed media works, using water colour, pencil and pastel. They have then been enlarged using a high-resolution digital scanner for hanging in the Congregational Centre.
One of Mr St Ledger tasks was to modernise the images of the women, making them relatable to people in the 21st Century.
"I couldn't find many modern depictions of these women online," he said. "With people like Mary Magdalen and Frances of Rome, you are looking at centuries-old artwork, so there was a good challenge there."
The Blessing and Opening of the Congregational Centre took place on February 2, the Feast of the Presentation of Christ in the Temple, and the 166th anniversary of the foundation of the Sisters of the Good Samaritan.
FULL STORY
Artist Terry St Ledger depicts Ministerial Women for the 21st Century (The Good Oil)