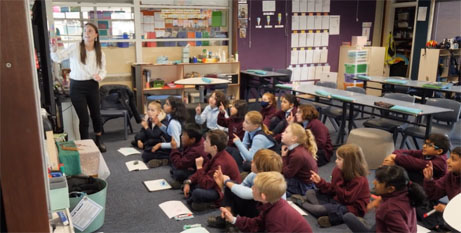 The overhaul of the literacy approach used in Catholic schools in Canberra has led to a marked improvement in the reading skills of year 3 students, according to new analysis. Source: ABC News.
The findings are contained in an Equity Economics report, prepared for the ACT Alliance for Evidence-Based Education, which looked at performance of students across a range of year levels. It considered results on Programme for International Student Association (PISA) testing, as well as NAPLAN.
The analysis shows Catholic schools lifted the performance of year 3 students in NAPLAN reading over the past four years after adopting a new literacy program in 2020, while government schools still languished.
In 2019, 42 per cent of Catholic schools and 54 per cent of government schools were deemed to be underperforming.
By 2022, only four per cent of Catholic schools underperformed compared to 60 per cent of government schools.
Catholic Education Canberra-Goulburn director Ross Fox welcomed the report as an endorsement of the sector's efforts to lift literacy outcomes.
"We need more time to measure long-term outcomes, but we are seeing significant improvements in schools and classrooms and positive feedback from parents that we are on the right track and making good progress," he said.
The Equity Economics report has urged the ACT Government to adopt many of the changes made at Catholic schools under its Catalyst program.
FULL STORY
Significant number of Canberra school students behind in reading with calls to overhaul literacy teaching (By Susan McDonald, ABC News)