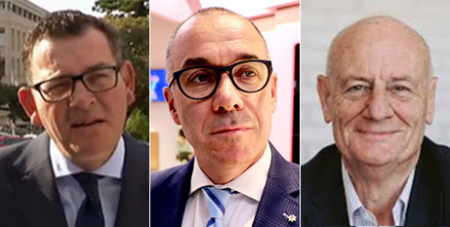 Victorian Premier Daniel Andrews responded to criticism from faith leaders over Andrew Thornburn's short stint as Essendon Football Club chief, as Baptist minister Tim Costello called for a national religious bill of rights. Source: The Age
Mr Thorburn, a former boss of National Australia Bank, was appointed Essendon's CEO on Monday but resigned on Tuesday amid criticism of his role as chair of the conservative City on a Hill church, which is part of the Anglican Diocese of Melbourne.
Melbourne Archbishop Peter A Comensoli criticised Mr Andrews on Wednesday for using words like "intolerant" and "bigotry", writing in the Herald Sun that Victorian society was in "big trouble" if that was the reaction to people of faith.
"The Premier's own words about his beliefs and how they play out for the sake of others, have tended toward the harmful, because they have sought to uphold the good of one by undermining the good of another,". Archbishop Comensoli said.
Mr Andrews yesterday said he was "not here to be having a debate with faith leaders. I'm a Catholic. I send my kids to Catholic schools. My faith is important to me and guides me every day."
Meanwhile, Rev Costello, a former CEO of World Vision Australia, said the nation needed to have a more nuanced conversation about balancing religious freedom and inclusivity.
Rev Costello said, if Australia had a bill of rights the competing views of its complex, multicultural society would be managed in a more civil way than this week.
Anglican Archbishop of Melbourne Dr Philip Freier told ABC Radio Melbourne he had advocated for a national bill of rights based on Victoria's human rights charter.
FULL STORY
'The words were wrong': Dons saga pastor backtracks, Costello pushes for bill of rights (By Lachlan Abbott and Caroline Schelle, The Age)
Matthew Guy criticises Daniel Andrews' 'disrespectful discourse' in Bombers debate (By Alexandra Middleton, John Masanauskas and Mitch Clarke, Herald Sun)
RELATED COVERAGE
War on church becomes an article of Labor faith (The Australian)
Prominent Baptist minister and football fan conflicted over Essendon fallout (9news.com.au)