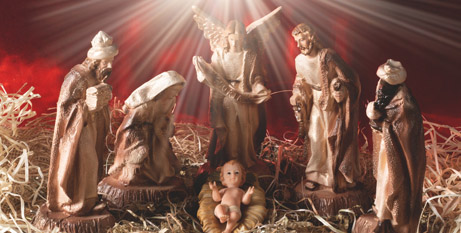 The celebration of Jesus' coming into the world is a beacon of hope in a troubled world beset by war and a nation tested by devastating floods and rising cost-of-living pressures, Australia's bishops have said in their Christmas messages.
Wilcannia-Forbes Bishop Columba Macbeth-Green OSPPE said that after a year when most of the people in the western New South Wales diocese had to deal with devastating floods, many communities are depressed and fatigued, wondering what the future of their town will be.
"If we ever need to hear a story of hope, it is now. We need to wait in hope for the coming of our Saviour Jesus Christ," he said.
"When the Word of God became flesh and was born in a stable at Bethlehem the world experienced the Love of God made visible in Jesus Christ.
"Our Lord Jesus Christ asks for our faith in Him, our trust in Him, our hope in Him and our love for Him. Jesus wants a special, strong relationship with each and every one of us. Jesus wants to be part of our lives, to accompany us on our journey of life. Jesus wants to console us, inspire us, encourage us and enable us through all the joys and sorrows of life.
"Christmas is a good time to remember that floods, fire, war, climate change, crime, illness, economic hardship and drought – devastating and scary as these things may be – cannot break the bonds of love between you and Jesus Christ. This bond of love can endure forever and is the source of Hope and Peace in an anxious world."
Adelaide Archbishop Patrick O'Regan said that after another year of difficulty at home and abroad, Christians will soon gather once more to remember the birth of a child, filled with hope and promise.
"(Jesus') birth is the light that gives us hope for this present world, in spite of disunity, abuse, hatred, violence, poverty, greed and corruption," he said.
"Hope is important in times such as ours where families struggle with the cost of living, some are homeless, some suffer hunger, where climate change threatens the gift of God's creation. We look across the globe with concern at battles which rage in places like Ukraine."
Into that fear and darkness comes the promised one, the Prince of Peace, he said.
And Perth Archbishop and Australian Catholic Bishops Conference president Timothy Costelloe SDB said Christmas presented a call to action for Christians.
"Jesus warmed hearts that had grown cold and hard, through fear, rejection, suffering or despair. And we are called to do the same," he said.
"May this be a time of deep happiness, of reconciliation and peace, and of joyful hope for the future."
Read the bishops' Christmas messages and a message from Catholic Religious Australia below:
Adelaide
Archbishop Patrick O'Regan's 2022 Christmas message
Ballarat
Bishop Paul Bird's 2022 Christmas message
Bathurst
Bishop Michael McKenna's 2022 Christmas message
Brisbane
Archbishop Mark Coleridge's 2022 Christmas message
Broken Bay
Bishop Anthony Randazzo's 2022 Christmas message
Canberra-Goulburn
Archbishop Christopher Prowse's 2022 Christmas message
Cairns
Fr Kerry Crowley's 2022 Christmas message
Geraldton and Broome
Bishop Michael Morrissey's 2022 Christmas Message
Hobart
Archbishop Julian Porteous's 2022 Christmas message
Lismore
Bishop Greg Homeming OCD's 2022 Christmas message
Maitland-Newcastle Diocese
Fr Greg Barker's 2022 Christmas message
Maronite Eparchy
Bishop Antoine-Charbel Tarabay's 2022 Christmas message
Melbourne
Archbishop Peter A Comensoli's 2022 Christmas message
Parramatta
Bishop Vincent Long OFM Conv.'s 2022 Christmas message
Perth
Archbishop Timothy Costelloe SDB's 2022 Christmas message
Rockhampton
Bishop Michael McCarthy's 2022 Christmas Message
Sandhurst
Bishop Shane Mackinlay's 2022 Christmas message
Sydney
Archbishop Anthony Fisher OP's 2022 Christmas message
Townsville
Bishop Tim Harris' 2022 Christmas message
Wagga Wagga
Bishop Mark Edwards OMI's 2022 Christmas message
Wilcannia-Forbes
Bishop Columba Macbeth-Green OSPPE's 2022 Christmas message
Wollongong
Bishop Brian Mascord's 2022 Christmas message
Catholic Religious Australia
CRA national council and executive director's 2022 Christmas message