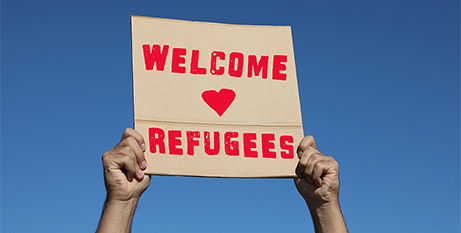 Catholic Religious Australia is among a number of Catholic organisations that have welcomed the Albanese Government's plan to end Temporary Protection Visas and Safe Haven Enterprise Visas.
More than 19,000 people with temporary refugee status will now be able to apply for a permanent Resolution of Status (RoS) visa, giving them the same rights as permanent residents. This will allow immediate access to social security payments, higher education assistance and the NDIS as well as the ability to apply for home mortgages and business loans.
Families will also be able to reunite, as RoS visa holders will be able to apply to sponsor family members through the migration program.
"For too long, refugees on temporary visas have had their lives on hold, unable to feel that Australia is their home and subject to restrictions on basic human rights," said CRA president Fr Peter Jones OSA.
"This continued uncertainty has exacerbated the already significant trauma they have experienced in fleeing their country of origin."
CRA national executive director Anne Walker said: "This is an historic moment that ends a decade of unjust and inhumane treatment of people who are making a significant contribution to Australian society."
Catholic Social Services Australia chair Francis Sullivan said the changes were long overdue and a victory for compassion and common sense.
"For too long, the politics around refugees has driven a wedge into our communities. This announcement will go a long way to bringing communities together and restoring the long-held Australian ethos of giving everyone a fair go," he said.
Jesuit Refugee Service said it lauded "these long-overdue measures towards ending a policy which has wrought terrible harm upon refugees for over a decade. We also note the strength and fortitude of these refugees, their ability to overcome daunting odds, and their tireless advocacy that has led to this moment."
Edmund Rice Centre for Justice and Community Education refugee and asylum-seeker program coordinator Farid Ghalib said there are still a "substantial number of people in limbo and uncertainty. We would like the government to have a clear, dignified and humane outcome for them as well."
FULL STORY
An end to temporary protection policy; a step in the right direction (CRA)
Catholic peak body says new pathway for refugees to apply for permanent residency a 'victory for compassion' (The Catholic Leader)
Permanent Protection Pathway Long Overdue (ERC)
JRS Australia Celebrates Pathways to Permanency for Refugees with Temporary Protection (Jesuit Refugee Service)