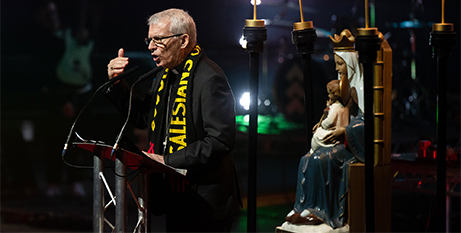 Perth Archbishop Timothy Costelloe SDB has told a gathering of British youth that the Church needs their energy, enthusiasm, restlessness and idealism. Source: The Record.
"And when I say the Church needs all this, I am really saying that God is asking this of you," Archbishop Costelloe said.
Archbishop Costelloe was speaking at the 2023 Flame: Rise Up, National Youth Congress, held at Wembley's OVO Arena in London on March 4.
The congress was organised by the Catholic Youth Ministry Federation of England and Wales, which includes the Catholic dioceses of England and Wales plus religious orders, movements and organisations engaged in youth ministry.
More than 8000 youth from schools, parishes, diocesan groups and religious groups, gathered in the colourful arena holding up lights from their mobile phones in what was the first gathering of its kind for Catholic youth in the UK since 2019.
Complete silence filled the arena as a statue of Our Lady of Walsingham was processed to the front at the start of the six-hour event.
Focusing on the theme of the congress, based on the 2023 World Youth Day Lisbon, "Mary arose and went with haste", Archbishop Costelloe said Mary was often described as the very first and best disciple of Jesus and for that reason she had a lot to teach us, that she really did matter.
"Mary is all about helping us to be the best disciples of Jesus that we can possibly be so she is always pointing us away from herself and directing us towards him," Archbishop Costelloe said.
FULL STORY
Mary is all about helping us to be the best disciples of Jesus, says Archbishop Costelloe (By Jamie O'Brien, The Record)