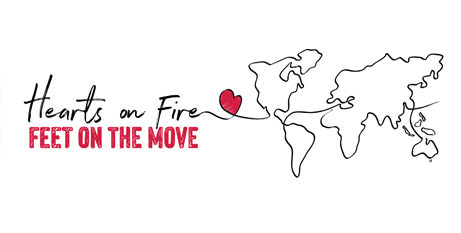 Inspired by the Pope's message for World Mission Sunday, Catholic Mission is this year raising awareness of the work of lay and religious missionaries around the world with the theme, "Hearts on Fire, Feet on the Move".
In his message, Pope Francis reflects on the resilience that missionaries demonstrate in their life-giving work and encourages people worldwide to renew their commitment to spreading the Good News and to support missionary work.
Dedicating their lives to others, and in partnership with communities, missionaries aim to create a positive change through spiritual care and the implementation of grassroots projects, such as health care and education, reaching far beyond Catholic communities.
Catholic Mission's National Director, Fr Brian Lucas, expressed enthusiasm for this year's theme for World Mission Sunday in October.
"Pope Francis has given us a powerful and inspiring message. It is an invitation to walk together on the path of peace, hope and creation," Fr Lucas said.
Details: catholicmission.org.au/heartsonfire
FULL STORY
Catholic Mission announces the theme for 2023: "Hearts on Fire, Feet on the Move" (Catholic Mission)