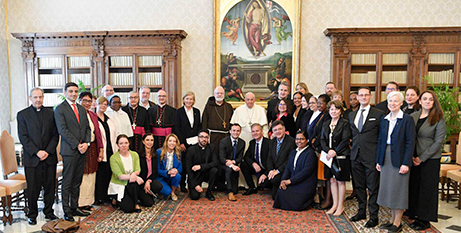 The new projects and developments at the Pontifical Commission for the Protection of Minors represent "a major shift toward a more impact-focused direction", said its president, Cardinal Sean O'Malley OFM Cap. Source: NCR Online.
"The Holy Father has asked a lot from us, and we are all committed to making this work," the Boston cardinal said, according to a statement from the commission released yesterday.
"We have sought the necessary resources to respond adequately, and we are confident in the plan we have laid out and the people we have working with us," he said in the statement, which was issued following the commission's plenary assembly in Rome on May 3-6.
"At times, this new direction has been both steep and fast for all of us reflecting the urgency of the challenges. This accelerated pace over the last six months has caused growing pains as we have attempted to respond to both short- and longer-term needs," the cardinal's statement said.
A number of topics were discussed and decisions made during the May 3-6 plenary assembly at the commission's new office in Rome, the press release said.
Among those items were an update to the Church's universal guidelines framework that was first issued by the Vatican in 2011 to assist the world's bishops' conferences develop national guidelines for dealing with cases of sexual abuse by clergy.
The new "Universal Guidelines Framework will now be submitted to church leaders, victims' groups and other key stakeholders for a period of public commentary before final approval later this year," it said.
Among its new tasks, it said, were how to respond promptly to Francis' request "to animate the Church to combat the evils of online child abuse" and commissioning an in-depth study on "the theme of vulnerability in its various forms so as to equip church entities with robust measures to combat this emerging area of abuse".
FULL STORY
Cardinal O'Malley: Papal abuse commission shifting to 'impact-focused' direction (By Carol Glatz, CNS via NCR Online)