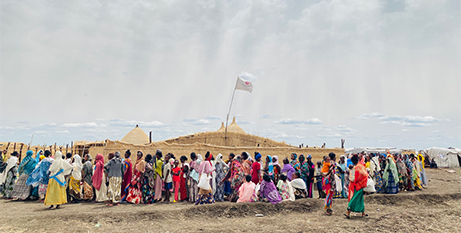 Caritas Australia has expressed gratitude for Australia's commitment of $6 million in urgent humanitarian assistance to address the escalating conflict in Sudan.
The conflict has exacerbated the existing humanitarian crisis in Sudan, a country already grappling with drought and chronic instability.
Even prior to the current turmoil, more than 15 million people, one-third of Sudan's population, faced acute food insecurity. A further 3.7 million were internally displaced and heavily reliant on humanitarian aid.
As the conflict unfolds, hundreds of thousands of people, including those previously displaced, have been forced from their homes.
"This initial commitment by the Australian Government is a solid first step towards addressing the humanitarian needs of this crisis in a region that is already suffering," said Melville Fernandez, Caritas Australia's humanitarian emergencies associate director.
"We trust that the allocated funding will provide vital support to the countless individuals affected by this crisis, as well as families struggling to access their basic needs amidst the ongoing turmoil. We strongly advocate for unimpeded humanitarian access to safeguard the most vulnerable during these challenging times."
Caritas Australia's partner, the Catholic Agency for Overseas Development – known as CAFOD – has been working in Sudan since the 1970s. Caritas Australia supports CAFOD in Sudan with programs for refugee and host communities, sanitation facilities, safe fuel and energy sources for cooking, "dignity kits" and life skills training for women and girls.
Australia's humanitarian assistance will provide immediate relief, including medical supplies, food, water and sanitation, emergency shelter, and protection measures for the most vulnerable individuals affected by the Sudan conflict.
FULL STORY
Caritas Australia welcomes humanitarian funding for Sudan (Caritas Australia)