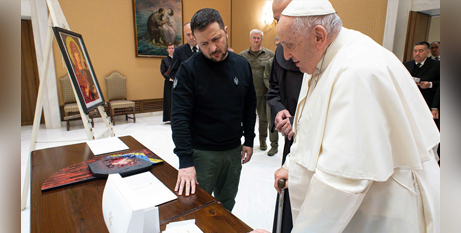 Ukrainian President Volodomyr Zelenskyy met Pope Francis at the Vatican on Saturday as Francis intensifies his efforts for a ceasefire in Russia's war against Ukraine. Source: The Tablet.
Mr Zelenskyy travelled to Rome for meetings Italian President Sergio Mattarella and Prime Minister Giorgia Meloni.
He saw Francis in the afternoon for about 40 minutes in a room between the Paul VI Hall and the Casa Santa Marta, where the Pope lives. On his arrival in the city, Mr Zelenskyy wrote on social media that his visit was important for the "approaching victory for Ukraine!"
Since President Vladimir Putin began his invasion of Ukraine on February 24, 2022, the Pope has sought to use every diplomatic lever at his disposal to push for peace. He has repeatedly pledged solidarity with the "martyred" Ukraine and described Russia as the "aggressor".
But he has also tried to keep diplomatic channels with Mr Putin open and has sometimes faced criticism for not being more explicit in his condemnation of Mr Putin and Russia.
The 86-year-old pontiff thanked Mr Zelenskyy for his visit, which the President said was "a great honour".
As is customary on diplomatic visits, the pair exchanged gifts. Francis gave Mr Zelenskyy a bronze sculpture representing an olive branch, the 2019 document on human fraternity, a book on the Pope's March 27, 2020, prayer service during the pandemic and a book on all of the Pope's public interventions calling for an end to the war, titled An Encyclical on Peace in Ukraine.
Mr Zelenskyy gave the Pope an artwork made from a bulletproof vest and a painting, Loss, on the killing of children during the conflict.
The Vatican afterwards said the pair discussed the "humanitarian and political situation" in Ukraine caused by the war and the need to "continue humanitarian efforts to support the population".
FULL STORY
Francis meets Zelenskyy in effort for ceasefire (By Christopher Lamb, The Tablet)
RELATED COVERAGE
Pope, Ukrainian leader talk about humanitarian situation provoked by war (CNS via OSV News)
Pope Francis gives Ukrainian President a sculpture of an olive branch (Vatican News)
Volodymyr Zelenskyy presented a bullet proof vest to Pope Francis and made this request (SBS News)