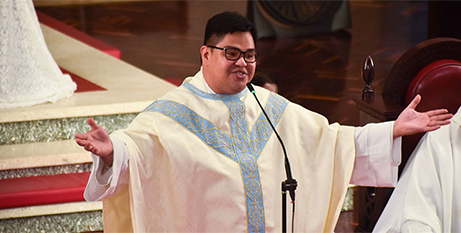 Newly ordained Darwin priest Fr Andric Dean Tobias Taberdo wanted his first words in his priestly ministry to be "thanks to God who draws us together in a communion of love and, who in love, also called me to the priesthood". Source: The Catholic Leader.
"Out of the depths of my heart, I thank God," he said.
Fr Taberdo has become the first Filipino priest ordained for Darwin diocese in 30 years.
Darwin Bishop Charles Gauci ordained Fr Taberdo at St Mary's Star of the Sea Cathedral on May 24.
Bishop Gauci said Fr Taberdo was a "local boy" whose family lived in Palmerston.
He said Fr Taberdo's mission as a priest was to walk alongside others, sharing Christ's message.
"His ministry is one of love and trying to grow in the love of God," he said.
Fr Taberdo expressed his gratitude to God, Our Lady, his family, and the bishops and priests who have supported him throughout his journey.
He also thanked Vice Consul Angela Laurente of the Embassy of the Philippines in Canberra, who congratulated him on becoming the first Filipino priest ordained in the Northern Territory and the first priest ordained in Darwin diocese in nearly three decades.
The historic ordination coincided with the Philippines-Australia Friendship Day, celebrated on May 22, highlighting the strong ties between the two countries.
More than 7000 Filipinos live in the Northern Territory
FULL STORY
Historic ordination of first Filipino priest in the Northern Territory after 30 years (By Joe Higgins, The Catholic Leader)
RELATED COVERAGE
Historic Ordination of First Filipino Priest in the Northern Territory After Three Decades (Darwin Diocese)