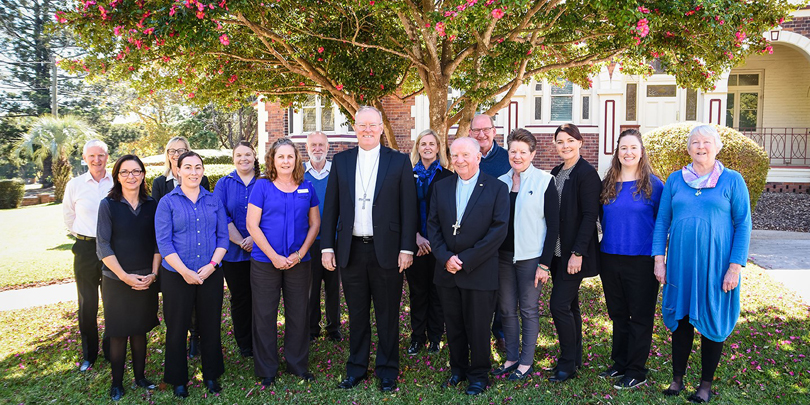 Bishop Ken Howell will officially become the seventh Bishop of Toowoomba today during a liturgical reception at St Patrick's Cathedral Toowoomba.
With an anticipated full cathedral, some 25 archbishops and bishops and more than 80 clergy will join civic and community leaders, parish delegates and inter-faith representatives in welcoming Bishop Howell to the community.
The celebration will be full of moments that link the diocese's past to the present and future of the diocese. The date has special significance with Bishop Robert McGuckin's ordination as the sixth Bishop of Toowoomba held on the same date 11 years prior. Bishop McGuckin, with Bishop William Morris, the fifth Bishop of Toowoomba, will present Bishop Howell with the crosier of the First Bishop of Toowoomba, Bishop James Byrne.
The Installation will commence at 11 am with a procession of clergy. Bishop Howell, joined by the Dean of the Cathedral, Fr Michael O'Brien, and Deacon Andrew O'Brien, will be greeted on the steps of the Cathedral by a local First Nations People representative offering a smoking ceremony and Welcome to Country. After they process into the Cathedral, Archbishop Mark Coleridge, Archbishop of Brisbane, will call for the Apostolic Decree to be read. Bishop Howell will then be led to the cathedra by Bishops McGuckin and Morris. During the service, representatives from the diocese, its ministries, and other faiths will come forward to welcome Bishop Howell.
"I am deeply humbled to be called by Pope Francis to shepherd this local Church, and I thank him sincerely." Bishop Howell said of his new role. "I realise that I have been given a great responsibility to care for the faithful and to engage in the life of the broader community across the diocese."
The Installation will be live-streamed from 11am via the diocesan website: https://www.twb.catholic.org.au/installation-bishop-ken-howell/.
FULL STORY
Countdown to Installation of Seventh Bishop (Diocese of Toowoomba)