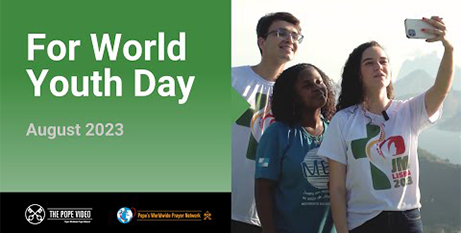 Pope Francis has dedicated his August prayer intention to World Youth Day, which begins in Lisbon, Portugal tomorrow, inviting young people to set aside fear and embark on a joyful journey to bear witness to Christ in the world. Source: Vatican News.
The Pope invited the Church to pray for this intention in this month's The Pope Video, which was created in collaboration with the Lisbon 2023 WYD Foundation and the Dicastery for Laity, Family and Life, and is about young people and World Youth Day.
Pope Francis' message emphasises his invitation to young people to quickly take the path of bearing joyful witness to the Gospel.
The video begins with Pope Francis reassuring young people of their importance to the Church, noting the Church needs young people in order to survive.
The Pope responds to several young people from different continents who pose questions in various languages, including youth from the Philippines, Brazil and the Ivory Coast.
Some ask whether the Church is just for the elderly; why he chose Mary as the theme for World Youth Day; and, what is the Pope's own hope for this international meeting of young people in Portugal.
Pope Francis explains that Mary's attitude is a lesson for all her peers.
"As soon as Mary knew she was going to be the Mother of God, she didn't stay there taking a selfie or showing off … The first thing she did was to set out on a journey, in haste, to serve, to help."
Later, the Holy Father shares his desire to plant "a seed for the world's future."
He also prays for a world which puts love at the centre, especially at a time when "we are at war," as well as joy, "because if we Christians have no joy, we are not credible, no one will believe us."
FULL STORY
Pope's August prayer intention: For World Youth Day in Lisbon (By Deborah Castellano Lubov, Vatican News)