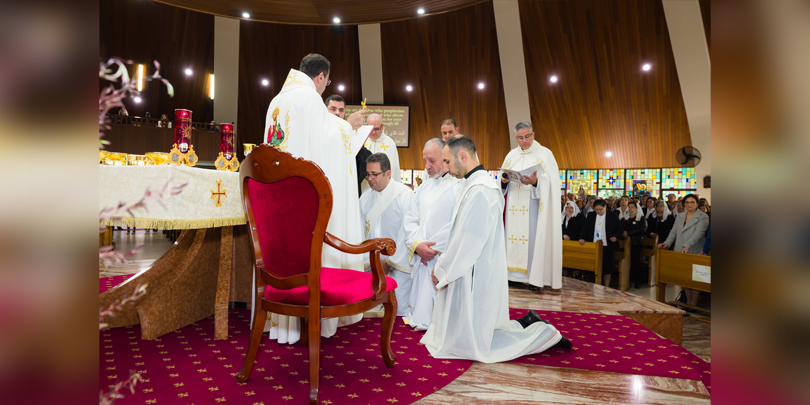 The Maronite community has three new priests, following the ordination of Fr Ron Hassarati, Fr Joseph Maatouk and Fr Mekhael Gebrael in Sydney on Saturday. Source: Maronite Eparchy.
Maronite Bishop Antoine-Charbel Tarabay ordained the men at Our Lady of Lebanon Co-Cathedral, Harris Park.
In a first for the Maronite Eparchy, all three priests are married and fathers.
Bishop Tarabay praised the unique journeys of the men, saying "they have answered the call to serve God's people with dedication, love and compassion. For as priests, our call is to be humble shepherds, recognising that it is Jesus who leads His Church, and He is entrusting us to look after His flock."
Married with three children, Fr Ron Hassarati, who grew up in the Canterbury-Bankstown area, studied theology and religious education. He is the author of two books and has worked as a teacher at the Maronite College of the Holy Family for 34 years.
Fr Joseph Maatouk, who migrated from Lebanon to Australia in 1976, had a successful career as a hotel chef, and owned restaurants and a catering business before dedicating himself to helping those struggling with addiction. He has been a counsellor for MaroniteCare since 2017 and is married with two children and grandchildren.
Fr Mekhael Gebrael, born in North Lebanon, completed a Bachelor of Philosophy and a Bachelor of Theology in Lebanon before taking on various pastoral missions in nursing homes, schools, and hospitals. Married with two young children, Fr Mekhael has served at many parishes in the Eparchy as subdeacon and deacon.
Bishop Tarabay reminded the new priests that they are not alone in their sacred calling, for the saints serve as intercessors and role models and their fellow clergy and parish communities stand beside them on their priestly journeys.
FULL STORY
Australian Maronite Church Ordains Three Married Men (Maronite Eparchy)