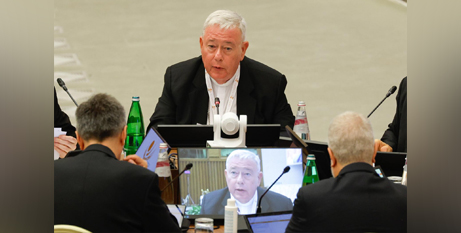 The theme of "communion" and how the Church might provide greater welcome to all of its members is the focus for the 460 participating bishops and lay members of the Synod on Synodality this week. Source: NCR Online.
The delegates of the October 4-29 Synod of Bishops will discuss that theme throughout the week, and also to discuss how Catholics can improve relations with other Christian denominations.
"If we act like Jesus, we will testify to God's love for the world," Luxembourg Cardinal Jean-Claude Hollerich, the Synod's relator general, said yesterday.
"Failing to do so will make us look like an identitarian club."
Laying out the themes for the week ahead, the cardinal recalled the Pope's recent and now-often cited mantra that the Church should be open to "todos, todos, todos" ("everyone, everyone, everyone").
"Jesus extended this communion to all the sinners. Are we ready to do the same?" he asked at the beginning of the second week of Synod meetings. "Are we ready to do this with groups which might irritate us because their way of being might seem to threaten our identity?"
Cardinal Hollerich's remarks marked the start of the second phase of the Synod's discussions. The assembly's small group discussions this week, he said, will consider questions regarding ecumenism, interreligious dialogue and ecology, among other topics.
While the Synod sessions are generally being held in private, the Vatican is offering a livestream at the beginning of each phase of discussions, which are being termed as "modules."
Cardinal Hollerich, a Jesuit, told the delegates he had been warned that tensions inside the Synod hall will begin to rise this week as the body considers more contentious topics. Toward the end of the week, the assembly is expected to begin discussions on themes including the possible ordination of women as Catholic deacons.
"We are not afraid of tensions," he said. "Tensions are a part of the process, as long as we consider ourselves to be sisters and brothers, walking together."
FULL STORY
Synod's second week starts with call to steer into tensions, news of four COVID infections (By Christopher White and Joshua McElwee, NCR Online)