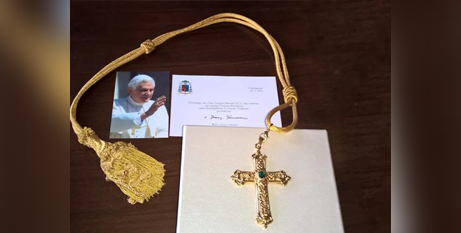 Several months after the theft of a pectoral cross bequeathed by the late Pope Benedict XVI to a parish in his native Bavaria, police have apprehended the suspect in the Czech Republic. Source: CNA.
The cross – which is still missing – was stolen on June 19 from a display case on the wall of St. Oswald's Church in the city of Traunstein.
According to the Bavarian State Criminal Police Office, the 53-year-old suspect, whom police claimed is a serial thief with a history of property crimes across several European countries, left traces at the crime scene that led to his identification via an international data match.
His criminal career in Germany traces back to 1990, police said.
German media reported that the public prosecutor's office, considering the suspect's substantial prior convictions, anticipates a prison sentence of several years if he is convicted.
Authorities, however, were reportedly considering a significant reduction in the sentence if the pectoral cross is returned.
After authorities issued an international arrest warrant, the mounting pressure led the suspect to turn himself in to the police at his residence in the Czech Republic, police said.
He is now in custody in the Bavarian town of Traunstein, though the location of the stolen pectoral cross continues to elude investigators.
The pectoral cross holds an immense value to the Catholic community in Traunstein. Pope Benedict XVI, born in the small Bavarian community of Marktl am Inn, had bequeathed it to St. Oswald's Church after his retirement in 2013.
FULL STORY
Police: Suspect in theft of Benedict XVI's pectoral cross arrested (By AC Wimmer, CNA)