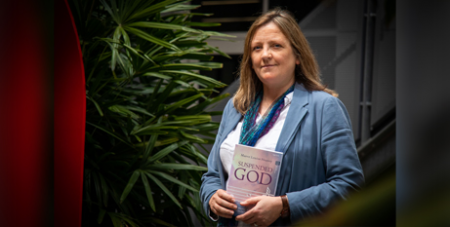 Australian Catholic University theologian Maeve Heaney VDMF believes music can be the ultimate tool where words fail to express the fullness of Christian truth.
In her new book, Suspended God: Music and a Theology of Doubt, Dr Heaney explores 12 key issues, doubts or questions that present a challenge to Christian faith or a person's image of God.
These questions are addressed in two ways – through the eyes of a Christian thinker who responded to that question, and through an original song by Dr Heaney from her album, Strange Life: The Music of Doubtful Faith.
Secretary for the Dicastery for Culture and Education, Monsignor Paul Tighe, officially launched the book at ACU Rome on September 27. An Australian launch is being planned for this month.
From Karl Rahner to Teresa of Avila, Dr Heaney weaves the life and thoughts of great Christian thinkers with the universal language of music, arguing that together words and music help make better sense of life.
"[The book] is built on the conviction that good theology is born of convinced believers who are willing to take their questions, and their doubts, seriously," Dr Heaney said.
"It presents the thoughts of significant theologians in the recent story of the Church who have taken real questions and thought through answers that have enabled us to live out our faith more honestly.
"And the book does this with both words and music, since we all make sense of life with more than words."
FULL STORY
New book shows the power of music in responding to faith and doubt (ACU)