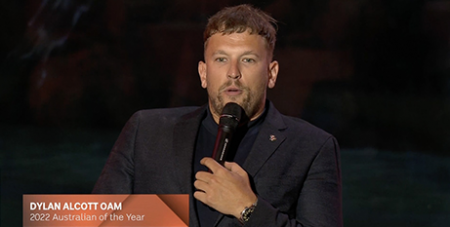 Australian of the Year Dylan Alcott is calling on governments to give the four million Australians with disabilities not eligible for the National Disability Insurance Scheme better support. Source: The Australian.
Mr Alcott will today hand a report to NDIS Minister Bill Shorten warning that people with disabilities who are not on the NDIS face a "desert" when it comes to their support options, creating an all-or-nothing approach to the $32.9 billion scheme.
Produced by Get Skilled Access – an organisation Mr Alcott founded to improve workplace inclusiveness – the report suggests overhauling the funding model for NDIS providers, elevating employment outcomes for people with disabilities and handing NDIS participants greater autonomy over the services they need.
Mr Shorten said it was a "quality report" and that he supported its principles.
The report, titled NDIS 2.0, a disability-led plan for the NDIS, warns that the insurance scheme was "supposed to be accompanied by a Tier 2 of community-based supports for people with disabilities who don't have NDIS plans, but this has never fully happened".
NDIS participants and individuals in the sector interviewed between May and June are quoted throughout the report, with some criticising state governments for winding down support after the establishment of the NDIS.
The report also suggests an overhaul of the existing funding model for providers to encourage them to improve results for participants rather than just deliver services.
He said it was critical that funding for the scheme not be cut and that he'd be "shocked" if the federal Government chose to target the NDIS to make savings in future budgets.
Investment in the NDIS is due to tip over $40bn a year by 2024-25 and reach almost $60bn by the end of the decade.
FULL STORY
Help four million not in NDIS, says Dylan Alcott (By Sarah Ison, The Australian)