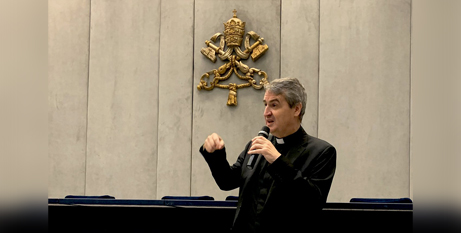 The Pontifical Commission for the Protection of Minors has met at the Vatican and laid the groundwork for an annual report on child protection efforts by the Church globally. Source: CNS.
Oblate Father Andrew Small, commission secretary, said on Friday that members also looked at the commission's new relationship to the disciplinary section of the Dicastery for the Doctrine of the Faith and continued their efforts to promote greater transparency and fuller reporting to victims about the outcome of their cases.
"In our engagement with victim survivors, the acknowledgement of the wrong that was done to them is primary, being listened to, being believed," Fr Small said. "There's nothing that takes the place of being believed and heard."
But, he said, "seeing the wrongdoer continue to flourish at times or to appear without sanction is also very painful," so victims are understandably confused or upset when they are not informed about actions taken by the Church against an accused offender.
The Vatican still needs to find a way to be more open while respecting local laws that protect the reputation of someone who is not guilty of a civil crime but may have violated Church law, Fr Small said.
If the Church cannot figure that out, he said, not only will it be bad for the institutional Church, "but it will be continually painful for the victims, who are the source and summit of the commission's focus".
As for the annual report on the Church's child protection efforts worldwide, a report the Pope asked the commission in April to develop, Fr Small said commission members outlined a design for the report.
While Fr Small said the commission should have something to give the Pope in 2023, he does not expect to collect enough "actionable data" to begin doing a full annual report until 2024.
FULL STORY
Commission starts planning global report on child protection efforts (CNS)