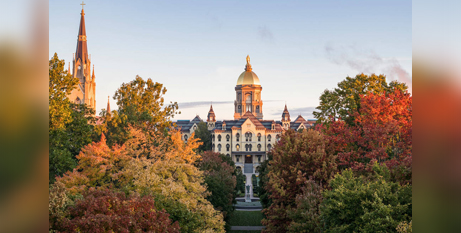 Having to choose between study and travel is no longer an issue for students at The University of Notre Dame Australia, thanks to a landmark student exchange agreement with its founding partner in the United States.
As part of its goal of becoming a highly connected international institution, the university has announced its inclusion in the Global Gateway Network hosted by the University of Notre Dame in the US.
UNDA described the Global Gateway Network as a "a ticket to the world for our students", with the network including hubs in London and Jerusalem, where UNDA students may now study. UNDA students will also have the opportunity of studying on the Notre Dame campus in South Bend, Indiana.
UNDA will also welcome overseas exchange students to its Australian campuses in Sydney, Perth and Broome.
Under the partnership, students who are offered this opportunity, will not incur any additional tuition fees and their marks from their host university will be counted towards their degree at home.
UNDA Vice-Chancellor Francis Campbell said COVID-19 had impacted the travel plans of many young people from around the world and the exchange program was a fantastic opportunity for them to see the world without having to interrupt their studies.
"With international borders reopened and students once again able to explore the world, this is the ideal time to launch this partnership which will provide our students with unique learning opportunities", Professor Campbell said.
"We are delighted to have reached this agreement with our close friends in the United States, which opens up a world of opportunities for students from both of our institutions."
The Global Gateway Network will be offered to students from the University of Notre Dame from the start of 2023. More information about the partnership can be found here.
FULL STORY