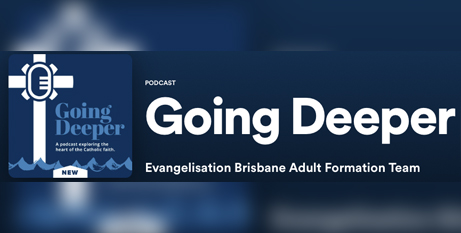 Evangelisation Brisbane's new Going Deeper podcast is all about getting to the heart of what it means to be Catholic, says producer David Kruse. Source: The Catholic Leader.
"Beneath what we do and what we say (as Catholics), and beneath all the tenets of the Catholic faith … at the core of it is a 'why', and a reason, and the reason is a person and the person is Jesus," Mr Kruse said.
"Even deeper than that, it's a particular type of relationship with the person of Jesus Christ and so I can't stress that enough with the podcast… that's really the core of it."
Evangelisation Brisbane Adult Formation Team associate director Shane Dwyer hosted the podcast with guests coming on for 20-30 minute segments discussing daily life as a Catholic, theology and faith experiences.
Mr Dwyer is an experienced spiritual director with a history in pastoral and ministry work.
The podcast was an extension of Evangelisation Brisbane's Going Deeper program with episodes once a week and full of "practical theology" to help anyone living out their faith, Mr Kruse said.
He said the topics that started the conversations during the episodes came from a 52-week guide that Mr Dwyer developed, "but where it goes from there is really organic".
"There's kind of a guide, but the conversation is all about how the guest responds and what resonates with them and what they want to talk about," he said.
FULL STORY
Catholics are 'going deeper' into their faith through new podcast (By Joe Higgins, The Catholic Leader)