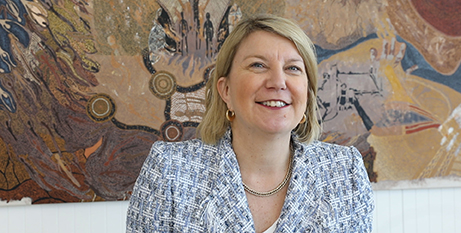 The National Catholic Education Commission says it looks forward to progress on religious protections that enable Catholic schools to continue to operate according to their values and beliefs.
National Catholic Education acting executive director Sally Egan said Friday's announcement of the terms of reference for the Australian Law Reform Commission's (ALRC) review of laws protecting faith-based schools shows some progress on this important issue, but must go hand-in-hand with legislation to protect religious rights in Australia.
"Religious freedom deserves the same protection as other rights in Australia, ensuring a fair and reasonable balance with other protected rights," Ms Egan said.
"International law recognises that parents have the right to choose a school for their children that reflects their values and beliefs," Ms Egan said. "For Catholic schools this means being able to preference the enrolment or employment of students or staff who are Catholic, or who are willing to support the ethos and mission of the school."
A survey conducted for Catholic Education last year showed 63 per cent of the general population, 82 per cent of Catholics and 79 per cent of parents with children in Catholic schools believe religious schools should be "entitled to require employees to act in their roles that uphold the ethos and values of that faith" and the school should be free to favour hiring employees who share these values.
"In operating in accordance with their religious beliefs, Catholic school communities do not discriminate, and are not seeking to discriminate, based on an individual's personal attributes," Ms Egan said. "However, it's critical that staff are willing to support the mission and ethos of the school, which may be a person who is Catholic but may also be a person who has another religious faith or no religious faith at all.
FULL STORY
Catholic education says religious freedom legislation must go hand in hand with Law Reform Commission review (NCEC)
RELATED COVERAGE
Labor takes step towards new religious discrimination laws with review of exemptions for schools (The Guardian)
Faith shields back on agenda for religious discrimination laws (The Australian)