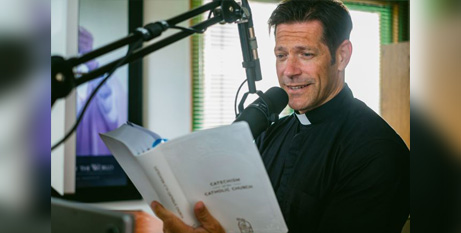 American priest Fr Mike Schmitz says he hopes people "will not only grow in information but real transformation" through listening to the Catechism in a Year podcast, set to launch on January 1. Source: CNA.
The Catechism in a Year podcast from Ascension Press follows the Bible in a Year podcast, which has a global audience of more than 1.5 million people.
Fr Schmitz, host of the Bible in a Year podcast and the new Catechism in a Year podcast, and Jeff Cavins, Catholic speaker and author, discussed the new podcast in a press conference with Ascension Press.
Mr Cavins said the pair hoped that "Bible in a Year and Catechism in a Year are going to go one step further in forming people so that they can become like little satellites and share with other people".
He added: "What we want to do is to make it accessible for the common person — to break down some of these ideas that are kind of 'woah, I've never heard that word before' and break it down into, OK, how does this play out in your family, with your children, with your finances, with your emotions, in your parish?"
The Catechism in a Year podcast will follow a similar format to the Bible in a Year podcast in that there will be daily episodes (365 total), but they will be shorter, ranging from 15 to 20 minutes rather than the Bible in a Year's 30- to 45-minutes episodes.
Although the Catechism is specific to the Catholic Church, Fr Schmitz believes anyone will be able to listen to the podcast and learn from it.
"I think it's not going to be exclusive. I think that, hopefully, it's going to be even more inclusive and more expansive than possibly the Catechism has ever been in the past," he said.
FULL STORY
Catechism in a Year podcast seeks to deepen the faith of Catholics and non-Catholics alike (By Francesca Pollio Fenton, CNA)