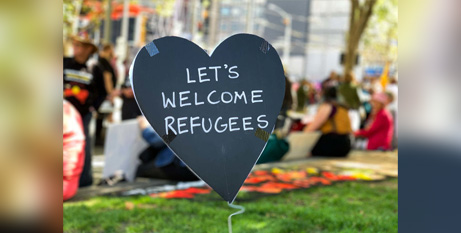 More than 19,000 refugees in Australia will finally be able to qualify for permanent residency after a decade on temporary protection visas, in a major policy change by the Albanese Government. Source: Sydney Morning Herald.
To be unveiled in the new year, the change will mean the refugees would be able to freely leave the country and return, to access secure work or full social security benefits and to send for their families to come to Australia.
But the fate of another 12,000 asylum seekers who are still seeking refugee protection is yet to be decided by Immigration Minister Andrew Giles, who is working through options to review their status.
This includes those whose applications for temporary protection visas have been rejected, who are appealing their rejection or who are still awaiting their results.
The policy shift on visas is likely to be criticised by the federal opposition, but Labor has repeatedly stated it is committed to Operation Sovereign Borders and turning back asylum seeker boats, with a vessel containing 13 Iraqis sent back to Indonesia last week.
Home Affairs Minister Clare O'Neil said, "we said we would do this and we will – deliberately and carefully".
The almost 31,000 asylum seekers affected by Labor's policy shift mostly arrived in Australia by boat between August 2012 and January 2014 and were designated the "legacy caseload" by the former Abbott Government.
The majority of the 19,000 refugees who will be able to become permanent residents come from Iraq, Afghanistan, Iran, Myanmar and Sri Lanka and currently hold three-year temporary protection visas or a similar five-year Safe Haven Enterprise Visas, which they have had to renew at least once over the last decade.
FULL STORY
'I can see my family again': More than 19,000 refugees to qualify for permanent residency (By James Massola, Anna Patty and Lachlan Abbott, Sydney Morning Herald)