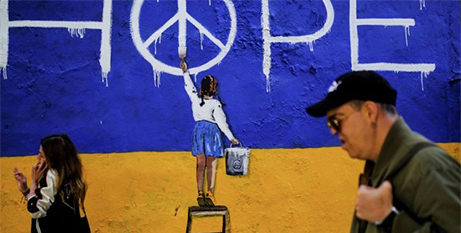 The interconnected "moral, social, political and economic crises" facing the world cannot be solved if individuals and nations continue to focus only on their own interests, Pope Francis said in his message for World Peace Day 2023. Source: NCR Online.
"The time has come for all of us to endeavour to heal our society and our planet, to lay the foundations for a more just and peaceful world, and to commit ourselves seriously to pursuing a good that is truly common," the Pope wrote in the message, which was released at the Vatican on Friday.
The Church celebrates World Peace Day on January 1 and distributes the Pope's message to heads of state and government around the world. Francis personally gives signed copies of it to visiting leaders throughout the year.
The theme for the Pope's 2023 message is "No one can be saved alone". The text urges people to learn from the experience of the global effort to combat COVID-19 and to recognise the poverty and inequalities the pandemic laid bare, especially with regard to access to food, medicine, health care, education and technology.
Francis asked people to reflect on a series of questions: "What did we learn from the pandemic? What new paths should we follow to cast off the shackles of our old habits, to be better prepared, to dare new things? What signs of life and hope can we see, to help us move forward and try to make our world a better place?"
As soon as it seemed the pandemic was nearly over, the Pope wrote, "a terrible new disaster befell humanity. We witnessed the onslaught of another scourge: another war".
The Russian war against Ukraine, he said, "together with all the other conflicts around the globe, represents a setback for the whole of humanity and not merely for the parties directly involved".
Cardinal Michael Czerny, prefect of the Dicastery for Promoting Integral Human Development, said the Pope's message is a reminder "that we are too quick to forget" and then humanity is forced to move on to the next disaster without having made changes to alleviate suffering.
FULL STORY
Papal message for World Peace Day: War, hunger, turmoil are connected (By Cindy Wooden, CNS via NCR Online)
RELATED COVERAGE
Pope's World Peace Day message: There is light even in our darkest hour (Vatican News)