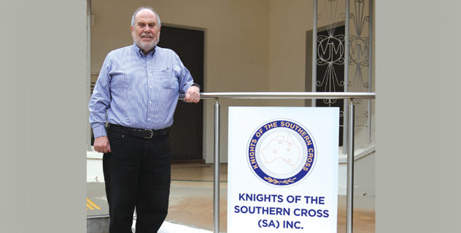 A pilgrimage to give thanks for the life and ministry of their patron saint, Mary MacKillop, will provide a fitting conclusion to the centenary celebrations of the Knights of the Southern Cross in South Australia. Source: The Southern Cross.
Commencing this month, the pilgrimage is being undertaken with the blessing and cooperation of the Sisters of St Joseph and Adelaide Archbishop Patrick O'Regan and will see the Knights transporting a 2.7m high cross to parishes throughout the Archdiocese.
The cross was one of two constructed by the Penola branch of the Knights in 1986 and is made from the narrow floorboards from the first school established by the Australian saint in Penola. The first of the crosses was presented to St John Paul II during his open-air Mass at Randwick in November 1986. The second was presented to Cardinal Edward Clancy, the then Archbishop of Sydney, and remained in Sydney's St Mary's Cathedral for many years.
"As St Mary of the Cross MacKillop is the patron saint of the Order, this is an appropriate way to conclude our centenary celebrations," said new KSC chair Paul Hawkes.
"This pilgrimage is the third since 1986 and the intention is that the cross will be made available for veneration and prayer in churches in most parishes in the Adelaide diocese and beyond."
Mr Hawkes said while the focus would be on St Mary, the pilgrimage would also be an opportunity for the Knights to spread the word about the Order.
"Our main challenge continues to be membership and we really need to address that," he said.
FULL STORY
Pilgrimage to honour patron saint (By Lindy McNamara, The Southern Cross)