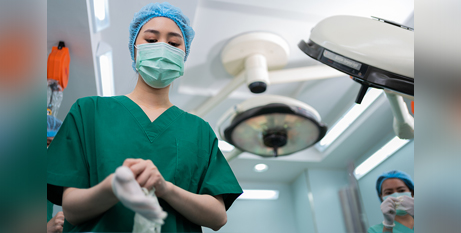 New South Wales Premier Dominic Perrottet has marked World Day of the Sick with a video message thanking Catholic health workers for their contribution to society. Source: Catholic Health Australia.
Mr Perrottet said the tomorrow's commemoration provides a chance to ask, "Are we taking proper care of those who are ill, vulnerable, and suffering?"
"The question is relevant to everyone, regardless of their faith or beliefs," Mr Perrottet said.
"Everyone will experience sickness in their lives. Everyone will love someone who is sick. It's a question we need to ask as a society."
The Premier thanked health care staff for their work.
"I pay tribute to all the staff at Catholic Health Australia whose vocation involves helping others. I wish you all the very best in your work. We are truly grateful for it. Thank you," he said.
The Church's World Day of the Sick is held tomorrow, the Feast of our Lady of Lourdes, and is an opportunity to devote special attention to the sick and to those who provide assistance and care in healthcare institutions and within families and communities.
Catholic Health Australia chief executive Pat Garcia thanked Mr Perrottet for his kind words.
"We are grateful to the Premier for his warm message of support for the sector's hard-working and dedicated staff," he said.
"As an organisation we will continue to advocate on behalf of our ministry of healing for an equitable, compassionate, health and aged care system that is person-centred in its delivery of care.
"This World Day of the Sick I ask the community to take time to reflect and remember the valuable work that our ministries continue to do in caring for the sick, frail and the dying."
FULL STORY
NSW Premier pays tribute to Catholic health sector on World Day of the Sick (CHA)