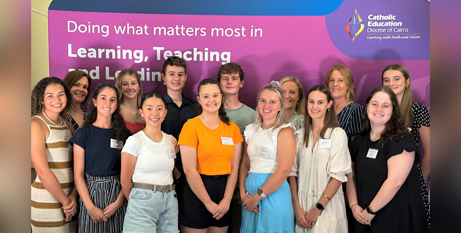 Cairns Catholic Education is aiming to future-proof the teaching industry in the Cairns region with 17 local students receiving 2023 education scholarships.
Cairns Catholic Education is committed to attracting, developing and retaining graduate teachers in the region, according to Cairns Catholic Education Services Director of Workforce Capability Marissa Clark.
"We could foresee a national teacher shortage based on a combination of increasing retirement rates and a growing student population, which led us to introduce our education scholarships," Ms Clark said.
"Our year 12 scholarships are a way of encouraging students in our Catholic colleges to pursue a teaching career here in Cairns, while our final year education scholarships are part of our commitment to attract, develop and retain graduate teachers in the region while supporting our local universities."
Recipients of the 2023 year 12 education scholarships and final year education scholarships were acknowledged at a celebration with key stakeholders, including representatives from James Cook University, CQUniversity and Cairns Catholic Education.
"This year we awarded nine Year 12 graduates from our Catholic colleges the year 12 education scholarships. The scholarship includes payment of all HECS fees for four years, as well as mentoring and guaranteed employment as a teacher within the Cairns Diocese," Ms Clark said.
"The eight final year scholarship recipients from JCU and CQU each received $1000, potential placement in a Catholic school, and professional development sessions throughout the year as part of our "Getting Ready for Employment" program.
FULL STORY
Future-proofing teaching in the Far North (Cairns Catholic Education)