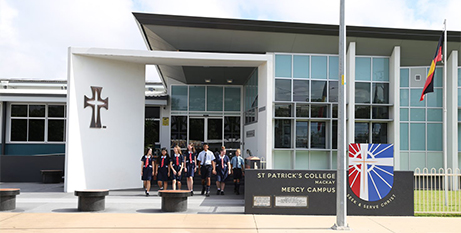 The transition of two Catholic schools in Mackay into one college has ushered in a new era for Catholic Education Diocese of Rockhampton.
St Patrick's College and Mercy College have merged to form one school with a year 7-10 campus and a year 11-12 campus under the name St Patrick's College.
St Patrick's College Principal Janelle Agius said the change had been seamless for students and parents.
"Both former college communities enjoyed such a strong connection, and our families were very supportive of the move to one school with one staff and one enrolment experience," Ms Agius said.
"Our staff and students have commenced the new school year extremely positively and have quickly settled into learning.
"There's a great sense of energy and enthusiasm within the community and an excitement about creating a combined Catholic college identity."
The transition to one secondary school consolidates and strengthens the existing collaboration and partnership between both former college communities, according to CEDR director Leesa Jeffcoat.
"Building on the strong foundations and existing collaboration at both previous colleges the transition to a single college provides enhanced education opportunities for both students and staff," Miss Jeffcoat said.
"Retaining the unique advantage of two campuses specifically catering to middle school and senior school age students was important to families, whilst further reinforcing continuity in learning,"
The transition follows the opening of a new Catholic secondary school, Catherine McAuley College, in Mackay in 2022.
FULL STORY
New Era for Catholic Education in Diocese of Rockhampton (Catholic Education Rockhampton)