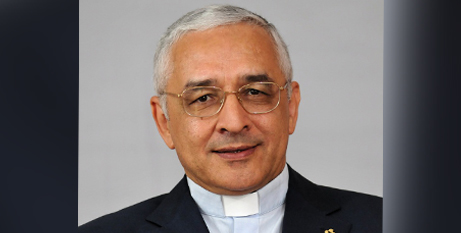 At least 4815 children were sexually abused by members of the Church in Portugal over the past 70 years, according to a report by the commission investigating the issue. Source: Reuters.
"(We want) to pay a sincere tribute to those who were abuse victims during their childhood and dared to give a voice to silence," said child psychiatrist Pedro Strecht, who headed the commission. "They are much more than a statistic."
Mr Strecht said the cases were the "absolute minimum" number of victims of sexual abuse by clergy members in Portugal since 1950.
Most perpetrators (77 per cent) were priests and most of the victims were men, Mr Strecht said, adding that they were abused in Catholic schools, churches, priests' homes, confessionals, among other locations.
The majority of the sexual abuses took place when the children were aged 10-14, with the youngest victim being just two-years-old.
Bishop Jose Ornelas, head of the Bishops' Conference, attended the final report's presentation and is expected to respond shortly.
The Church has previously said it was prepared to "take appropriate measures".
Fr Hans Zoller SJ, the Vatican official responsible for child sexual abuse cases, also attended the event in Lisbon. He said it was important to "continue to listen to victims because this will not be the end of it".
"There will be more victims who will come forward," he said, adding it was now the responsibility of the Bishops' Conference to inform the Vatican about the report. "We (Church) need to … (look) into the past."
FULL STORY
Thousands of children abused by members of Portugal's Catholic Church over 70 years: report (Reuters via ABC News)
RELATED COVERAGE
Portuguese Church sexual abuse report released (Vatican News)