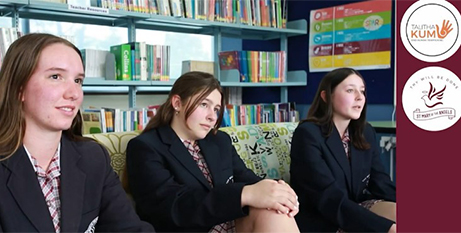 Australian and New Zealand Catholic secondary school students are responding to a call from Pope Francis to be the changemakers in the struggle against human trafficking. Source: ACRATH. 
Catholic students from St Mary of the Angels Secondary College in Nathalia in country Victoria; Killester College in Springvale, Melbourne; Clonard College in Geelong; Red Bend College in Forbes, NSW; and St Mary's College in Wellington, New Zealand, have contributed to a video they hope will influence other young people to act and help eradicate forced labour from the production of chocolate, clothing and technology.
The 12-minute video, made by Australian Catholic Religious Against Trafficking in Human (ACRATH) and Talitha Kum in partnership with the students and shown as part of the recent 2023 International Day of Prayer and Awareness Against Human Trafficking, is now available as a free resource for all schools.
In the video, the students urge young people and consumers of all ages to use their buying power to make a change.
Sr Colleen Jackson rsc, ACRATH member and Talitha Kum Coordinator for Oceania, helped produce the video and said the call to action by young people around the globe was inspiring. She said Pope Francis had asked young people to focus their actions this year on human trafficking.
Young people from the five schools have certainly heeded the Pope's call, each using their voice to urge others to fight for justice.
Sr Colleen said the video reminds everyone that human trafficking and forced labour is closely connected to consumer practices, especially in developed countries like Australia.
"We know that slavery and human trafficking is consumer-driven, so we all need to change to make a difference," Sr Colleen said.
"People are enslaved because people like you and I want goods cheaply. We want services cheaply and we'll do anything we can to get things as cheaply as we can. For that to happen someone has to be exploited."
View the video resource on the ACRATH website.
FULL STORY