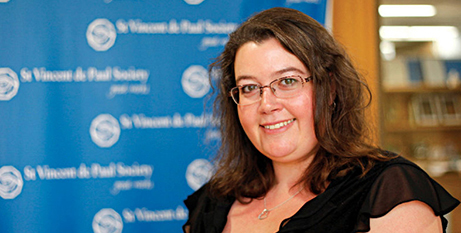 The St Vincent de Paul Society says homelessness services are under threat at a time of surging demand, as fears mount that the Albanese Government will defund hundreds of specialist homelessness support workers around the country.
The society's national president, Claire Victory, urged the Government to continue Equal Remuneration Order funding for specialist homelessness services, which ceases on July 1.
"Specialist homelessness service organisations face a crisis of uncertainty, job losses and cuts to services if the Commonwealth Government walks away from its responsibility to support Australians facing homelessness," Ms Victory said.
"This will impact homelessness services' ability to support the growing number of Australians falling into homelessness amid the escalating cost-of-living crisis."
In 2012, the Fair Work Commission ruled to raise the wages of workers in the social, community and disability sectors, through an Equal Remuneration Order, the Canberra Times reports.
The Commonwealth Government has since provided additional funding to homelessness services to meet the costs of higher wages. The funding was due to expire in June 2021, but the then-Morrison government extended it. However, the agreement is due to expire again in July, and the Albanese Government is yet to allocate money to extend the funding.
Ms Victory said Vinnies called on the Government to maintain current ERO funding levels of $65 million a year. "It would be unconscionable to reduce service levels during an unprecedented cost-of-living and housing crisis that is pushing more Australians into homelessness".
A spokesperson for the Minister for Housing Julie Collins said the Government was seeking an extension of the National Housing and Homelessness Agreement with states and territories to support the transition to a new housing agenda.
FULL STORY
Homelessness services under threat amid surging demand (Vinnies)
'Dire situation': ACT homelessness services to be cut by $2 million (By Soofia Tariq, Canberra Times)