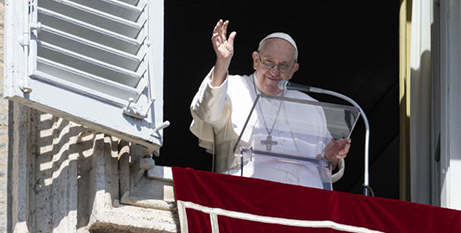 Pope Francis yesterday urged the faithful to reflect on the miracle of the Transfiguration and to see the same beauty in the faces of the people we interact with every day. Source: CNA.
In his Sunday Angelus address, the Pope discussed the "beauty" shown in Sunday's Gospel reading of Matthew 17:1–9. In this passage, Peter and James and his brother John witness Christ "transfigured before them" with his face shining "like the sun" and his clothes "dazzling white" as he conversed with Moses and Elijah on the top of a mountain.
Pope Francis said that we must "see the same beauty on the faces of the people who walk beside us every day", such as family, friends, and colleagues.
"How many luminous faces, how many smiles, how many wrinkles, how many tears and scars reveal love around us," the Pope said.
"Let us learn to recognise them and to fill our hearts with them. And then let us set out in order to bring the light we have received to others as well, through concrete acts of love diving into our daily occupations more generously, loving, serving, and forgiving with greater earnestness and willingness," Francis said.
"The contemplation of God's wonders, the contemplation of God's face, of the Lord's face, must move us to the service of others."
Following his address, Pope Francis said he was continuing to pray for the victims of a February 28 train accident in Greece, many of whom were young students. He said was also praying for the victims of a February 26 shipwreck near Crotone, Italy
FULL STORY
Pope Francis: Look for the beauty of Jesus' transfiguration in everyday life (By Tyler Arnold, CNA)