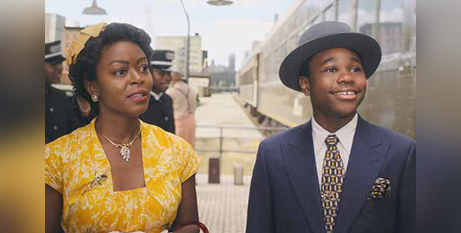 Based on a true story, Till is a biographical drama about a mother's pursuit of justice following the 1955 racially-inspired murder of her 14-year-old son in Mississippi. Source: Jesuit Media.
The film is told from the perspective of Mamie Till-Mobley (Deadwyler), whose son Emmett left home in Chicago to visit his cousins in Mississippi.
In the Deep South, Emmett whistled in a playful gesture at a white shopkeeper, Carolyn Bryant (Bennett), who complained to her husband and took action with two other men.
Emmett was beaten, lynched, tortured, shot and thrown into the Tallahatchie River, with his mutilated body found in the river, three days later.
Emmett's murder is not shown in the movie, but its brutality is powerfully captured in the visual depiction of his injuries. The extent of racism is shockingly revealed.
Mamie Till was so outraged by what was done to her son, that she made the painful decision to lie the dead body of Emmett in an open casket at her son's funeral for every mourner to see. Her journey from grief to activism became a cornerstone of the Civil Rights Movement in the US.
Deadwyler brings Mamie Till stirringly to life and projects an incredibly powerful portrayal of a mother's grief. The film is a beautifully made, and Mamie does all she can to personally come to grips with the racial violence perpetrated against her son. This is a profoundly moving film about a mother's relentless pursuit of justice, and vividly projects a mother's journey from sorrow and grief to effective political action.
Viewers are asked to find strength in tragedy, and to search for hope in despair. The film educates about the evil of racism, and looks for ways to cope with emotional grief.
Till depicts a world where inequality and racism are deeply ingrained, and it combines the personal and political with great force.
Review by Peter W Sheehan, Jesuit Medias
Till: Starring Danielle Deadwyler, Jalyn Hall, Frankie Faison, Haley Bennett, and Whoopi Goldberg. Directed by Chinonye Chukwu. Rated M (Mature themes and injury detail). 131 min.
FULL REVIEW
Till (Jesuit Media via Australian Catholics)