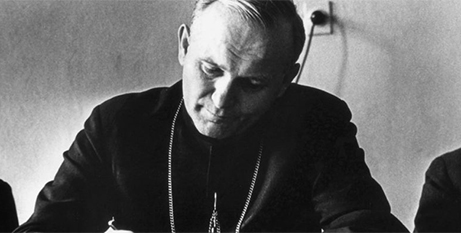 The Polish Bishops' Conference says that "further archival research" is needed to fairly assess a new allegation, based on communist secret police records, that St John Paul II covered up child sexual abuse by a priest while serving as the archbishop of Krakow. Source: CNA.
The allegation was included in a documentary broadcast on Monday on Polish television channel TVN24.
The same report also cited two other instances where St John Paul II, then Archbishop Karol Wojtyla, allegedly relocated Fr Eugeniusz Surgent and Fr Jozef Loranc to new parishes despite being aware that they had been accused of sexually abusing minors. However, those allegations, first made by a Dutch journalist on December 2 last year, were quickly refuted later that month by a pair of investigative journalists, the Polish bishops noted in a statement released on Tuesday.
The journalists, Tomasz Krzyżak and Piotr Litka, found that St John Paul II did not cover up any abuse and consistently acted against such cases during his time as archbishop of Krakow from 1964 to 1978.
A third allegation, which is an alleged cover-up of sexual abuse allegedly committed by Fr Boleslaw Saduś, is a new claim that was not addressed in prior reporting. The documentary alleges that Archbishop Wojtyla knew Fr Saduś was accused of sexually abusing young boys but recommended him to a diocese in Austria without noting this information.
However, this third case was based on communist secret police records, the Polish Bishops' Conference statement noted. "On the basis of the sources presented in the film, it is impossible to determine the qualification of the acts attributed to Fr Saduś."
FULL STORY
Polish bishops: New allegation that JPII covered up sex abuse based on reports from communist secret police (By Tyler Arnold, CNA)
RELATED COVERAGE
Polish experts reject claim JPII 'covered up abuse,' urge all Church records be opened to give full context (OSV News)
John Paul abuse claims trigger angry reaction from Poland (Crux)