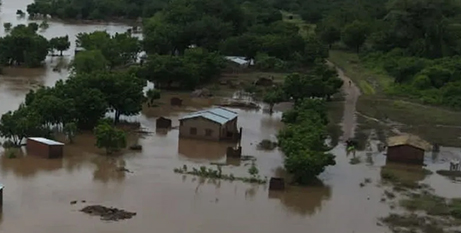 After a deadly tropical cyclone ripped through southern Africa, killing more than 400 people at last count, the Catholic bishops of the region are calling for help to allow those affected to "restore their lost human dignity". Source: Crux.
The bishops of Mozambique made the appeal in a March 16 statement. In addition to the loss of life, Cyclone Freddy has also destroyed homes, property and farmlands in the affected areas.
"In the spirit of brotherhood and brotherly love, we first want to express our solidarity with all those brothers and sisters who have been directly or indirectly affected and encourage them to lift their spirits, as we believe that with God, they will overcome this tragedy," said the statement, which was signed by Archbishop Inácio Saúre of Nampula and president of Mozambique's bishops conference.
"We want to appeal to all Catholic Christians, people of goodwill, and our partners to join forces to help our brothers and sisters seriously affected by cyclone Freddy to restore their lost human dignity," the bishops said.
The statement said the cyclone particularly affected the dioceses of Quelimane, Tete, Beira, and Lichinga, "having severely hit the city of Quelimane and its surroundings, again leaving many families out in the open and infrastructure destroyed, in addition to causing the loss of dozens of human lives".
"Expressing our sincere thanks in advance for all that you can do for the victims of cyclone Freddy, we implore God's abundant blessings for all," the clerics said.
In Malawi, the bishops urged "all Catholics, and people of good will, to stand with the victims of this devastating cyclone and immediately begin to donate whatever they can, in money and in kind, to help the victims who have been affected and are suffering from the effects of the cyclone".
The clerics in their March 14 statement said they were shocked and saddened by "the devastating effects of Cyclone Freddy".
FULL STORY
"In solidarity": Catholic Bishop in Zambia Appeals for Malawi's Cyclone Freddy Victims (By Ngala Killian Chimtom, Crux)