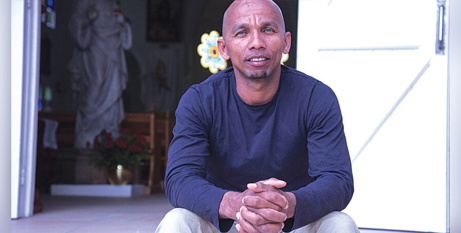 Brisbane parishioners last night held a last-minute prayer vigil in support of a Sri Lankan asylum-seeker who faces deportation as early as tomorrow, despite his wife and child having the right to remain in Australia under recent changes to immigration policy. Source: The Catholic Leader.
Nobert Eltran is among a group of refugees who arrived in Australia 10 years ago and were placed on bridging visas because they came on boats after the arbitrary cut-off date of 2013.His wife, Vinotha, has a Safe Haven Enterprise Visa and under the new policy should be granted a visa together with their nine-month-old baby, David.
They have been living in Adelaide for the past 12 months but recently moved back to Brisbane where they have a strong support network through Nobert's involvement with the inner-city Brisbane parish of Jubilee.
Former Jubilee parish priest Fr Peter Brannelly who now ministers on the Sunshine Coast, has known Mr Eltran for the last decade and says deportation makes no sense.
"This is where compassion and our sense of family blend together," Fr Brannelly said. "What purpose is it for Nobert to be sent back to a place with no connection and without his wife and baby?"
Adelaide parishioners John and Anne Haren, who have been assisting Mr Eltran and his family through the Circle of Friends, initiated a letter-writing campaign to politicians to enlist support for intervention by the Immigration Minister Andrew Giles.
Mr Haren said while he welcomed the federal Government's announcement that the current holders of Temporary Protection and Safe Haven visas would be granted permanent visas with potential pathways to citizenship, the decision did not provide the same opportunity for another group of people who seek asylum and refuge in Australia.
"I know by the actions of the Prime Minister in relation to the Biloela family that he has a great degree of compassion for this group of people. The irony of this recent announcement is that if the Biloela family was still seeking a visa, they would not be granted one under this latest policy."
FULL STORY
Urgent campaign to keep family together (By Mark Bowling, The Catholic Leader)