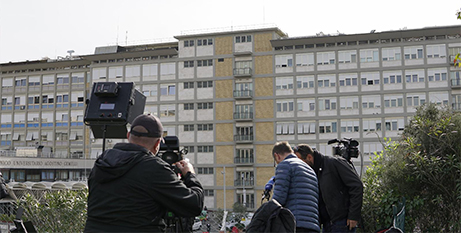 At the end of Pope Francis' first full day in Rome's Gemelli hospital, where he is being treated for bronchitis, the Vatican said the Pope was doing well, responding to treatment and spent his afternoon resting and in prayer. Source: Crux.
In a statement late last night, the Vatican said Pope Francis spent his afternoon "dedicating himself to rest, prayer, and some work duties".
According to information provided by the Pope's medical team, he was diagnosed with an "infectious bronchitis" and he is being treated with antibiotics that are being administered through an IV.
So far, the antibiotic treatment "produced the expected effects with a clear improvement" in the state of the Pope's health.
Should he continue to respond well to treatment, the Vatican said it is possible that Pope Francis will be discharged sometime "in the next few days".
Pope Francis was admitted to Rome's Gemelli hospital, where popes are traditionally treated and where a private apartment is permanently reserved for papal use, on Wednesday afternoon after experiencing respiratory troubles.
It is unclear if the Pope will be discharged in time for his scheduled Palm Sunday Mass in St. Peter's Square to kick off Holy Week, or whether he will be in a condition to celebrate his Holy Week liturgies if he is discharged in time.
In the past when he has been unable to make it through an entire papal liturgy, Pope Francis has tapped either Vatican Secretary of State Cardinal Pietro Parolin or Cardinal Giovanni Battista Re, dean of the College of Cardinals, to celebrate the ceremonies while he presides from a chair off to the side.
FULL STORY
Pope responding to treatment for bronchitis, Vatican says (By Elise Ann Allen, Crux)