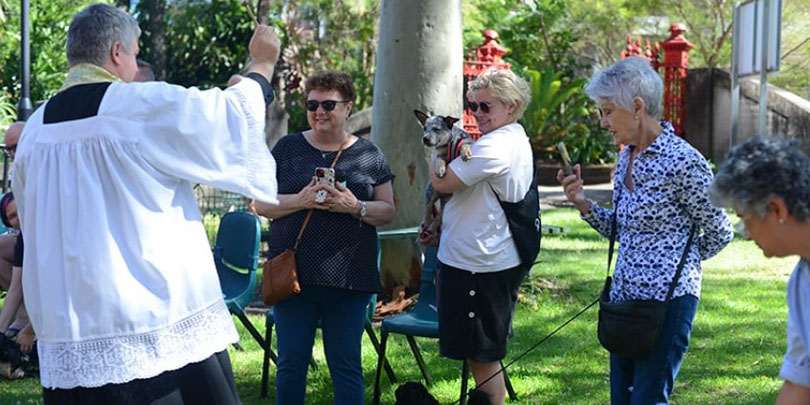 Paw-rishioners of Sydney parish St Joseph's Newtown were treated to a "dog's breakfast" recently, with more than 30 canines of all shapes and sizes attending the special event, which included home-made dog biscuits, a blessing and doggy certificate. Source: Catholic Weekly.
Held at the inner-city church, also home to the parish of St Bede the Venerable which ministers to members of the Ordinariate of Our Lady of the Southern Cross, the "blessing of the hounds" will become an annual event due to its popularity.
Monsignor Carl Reid, Ordinary head, was also on hand to welcome the four-legged parishioners and their owners to the church.
Parish administrator Fr Stephen Hill said that the dog's breakfast and blessing of the hounds was great fun, and a way of welcoming all members of the community to the parish.
"I've seen so many of these dogs and their owners walking around the area and thought this would be a great opportunity to bring them together and share some hospitality," he said.
"Basically, people want to feel connected, and we thought this would be a great way to build connections with people who we wouldn't perhaps usually see in a church context.
"Bringing people together is just another way of describing communion, and this is a fundamental task of the Church.
"The response has been overwhelmingly positive, and we have received a number of enquiries asking when the next dog's breakfast will be.
"I'm still not sure who had the most fun – the four-legged or the two-legged parishioners."
FULL STORY
Newtown parish hosts a dog's breakfast (By Debbie Cramsie, The Catholic Weekly)