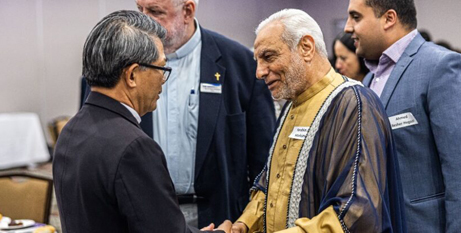 More than 100 leaders from across many faith communities gathered recently with politicians, members of educational institutions, charity groups and grass-roots organisations for the annual Interfaith Iftar dinner co-hosted by the Diocese of Parramatta and the Columban Centre for Muslim-Christian Relations. Source: Catholic Outlook.
Parramatta Bishop Vincent Long OFM Conv, along with Grand Mufti of Australia, Dr Ibrahim Abu Muhamad, gave keynote speeches with both reflecting on the similarities among people of faith.
"We are honoured by your presence, enriched by your friendship and made better citizens by working alongside with you," Bishop Long said in his opening address.
"We are better and stronger together, Buddhists, Sikhs, Baha'is, Jews, Muslims, Christians and other faith traditions. Working together, we can be a force for the common good and the upbuilding of our society and our world."
Held during Ramadan and Lent – both significant times of reflection, prayer, almsgiving and prayer for Muslims and Christians – the annual Interfaith Iftar dinner is one way the newly formed Diocese of Parramatta Interfaith Commission is promoting a culture of encounter, dialogue, understanding and solidarity, both within and outside the Church.
Political representatives included Donna Davis, newly elected Member for Parramatta, Lynda Voltz, Member for Auburn, Hugh McDermott, Member for Prospect and Julia Finn, Member for Granville.
Throughout the evening, guests were invited to participate in prayer, song, conversation as well as hear from speakers including Fr Patrick McInerney, Director of the Columban Centre for Muslim-Christian Relations, who remarked on the fabricated animosity between Christians and Muslims.
"The core of this fabricated animosity is that they do not know one another. They are strangers to each other. They only hear sensationalised accounts about one another from the media. And hence they misrepresent each other in their minds, far removed from reality, and this plays out in negative attitudes and discriminatory actions.
"The key to healing these broken relations is getting to know one another," he said.
FULL STORY
Building on interfaith legacies: Faith leaders come together for Iftar Dinner (By Anita Sulentic, Catholic Outlook)