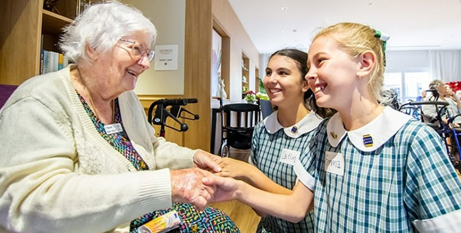 Students at St Declan's primary school in Penshurst, Sydney, take their school motto, "Bringing the love of God to life in people", very seriously. Source: Catholic Weekly.
The students visited the nearby Georges Estate Nursing Home during Holy Week to deliver not only Easter eggs, handmade cards and gifts but some very welcome joy.
Part of the parish's ministry to the sick and elderly, the inter-generational visit also included a mini-Easter liturgy, prayers of the faithful and a concert which proved a hit for both the young and young at heart.
Sitting holding hands, the students and seniors shared stories, laughs, and hugs.
Coordinator of ministries to the sick and elderly, Nellie Doueihi, said the visit was organised to help build meaningful relationships by bringing generations together.
She said the students enjoyed the experience so much they started organising their next visit on the walk back to school.
"We want our residents and homebound parishioners to know that they have a central place in our hearts and that they are recognised by St Declan's parish and primary school as an integral part of our community," she said.
"Watching the students working and encouraging each other when making the gifts for the residents was a beautiful experience.
"One of the students said she cried afterwards because she was so overwhelmed that doing something so little, meant so much to the residents, while another said, 'We put a smile on their faces and it made me feel so good'."
FULL STORY
St Declan's students bring joy to the sick and elderly (By Debbie Cramsie, The Catholic Weekly)