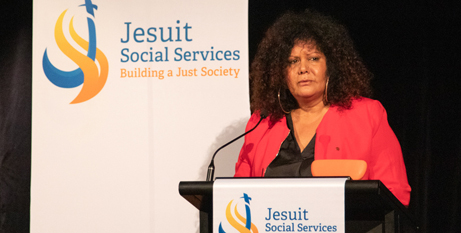 Social justice was on the agenda when Jesuit Social Services hosted its annual dinner recently, with guest speaker Senator Malarndirri McCarthy giving a personal insight into what a Yes vote in the Voice referendum would mean for Australia. Source: Australian Jesuits.
The largest event on the organisation's fundraising calendar, the event, held in Melbourne, featured an array of entertainment, raffles, auctions and insights into Jesuit Social Services' ongoing work to build a just society, in addition to a powerful Frank Costigan QC address by Senator McCarthy.
Senator McCarthy, a Yanyuwa Garrawa woman, the Assistant Minister for Indigenous Australians and Indigenous Health, and a Labor senator from the Northern Territory, spoke from the heart about the impact that a Yes vote in the upcoming Referendum on an Indigenous Voice to Parliament would have.
"Having a Voice enshrined in our Parliament will allow First Nations people to be empowered and always have a say in policies that impact them – what we can hopefully achieve is a better Australia," she said.
Jesuit Social Services CEO Julie Edwards spoke about the growth of Jesuit Social Services since the last event in 2019, including the expansion of The Men's Project and the establishment of the Centre for Just Places and the Ignatius Learning Centre, and the impact that the organisation's advocacy has on improving outcomes for people and communities.
There was also an opportunity for attendees to pledge to support Jesuit Social Services' work and ensure the organisation can continue to draw on its 45-plus year of service delivery to change systems, policies and practices that perpetuate inequality, prejudice, and exclusion.
Food for Thought (Jesuit Social Services via Australian Jesuits website)