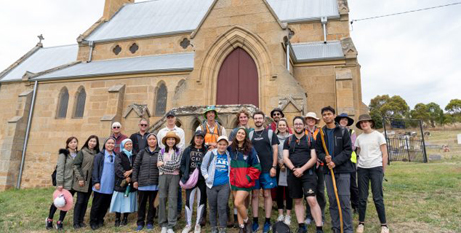 The seventh annual St Patrick's Pilgrimage saw young people from across the Archdiocese of Hobart cover about 40km over two days as they made their way from Colebrook to Richmond.
Commencing on Saturday, March 18, from St Patrick's Church in Colebrook, following Mass celebrated by Fr Paschal Okpon, participants walked across hilly terrain before setting up camp in Campania for the night.
Eucharistic Adoration was led by Archbishop Porteous, who also made himself available for those seeking the Sacrament of Reconciliation.
The pilgrims resumed the walk the following day, making their way through farmland to their destination, St John's Church in Richmond.
As he greeted the pilgrims upon their arrival at St John's for Sunday Mass, Archbishop Porteous emphasised the notion of life itself as a pilgrimage to the Kingdom of God.
"Today you complete the pilgrimage with the celebration of the Mass … it's an opportunity for us to recognise that life itself is a pilgrimage and that our homeland, our goal, is heaven," he said.
"Try to always seek what God wants of you; and so, we ask all the time, 'God, what do you want of me? How do you want me to live my life?'," he said.
This year's pilgrimage was a first for Sandy Bay parishioner Renz Tabnagay who said being present at the two significant churches in Colebrook and Richmond helped him "appreciate the inheritance and tradition which was passed on by the Church fathers".
"I also found peace and a sense of belonging in participating in Eucharistic Adoration on the Saturday night. That and singing with everyone ignited my spirit to grow closer to the loving relationship of Jesus.
"Overall, my experience of the pilgrimage led me to a deeper understanding of what being a Catholic means."
FULL STORY
St Patrick's Pilgrimage: Putting one foot in front of the other (Archdiocese of Hobart)