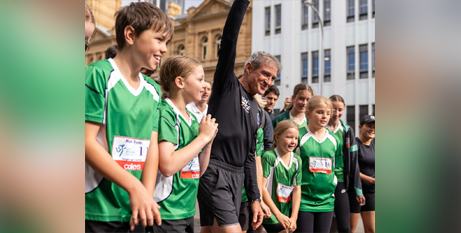 Ultramarathon runner and proud Catholic Pat Farmer is on a mission. The former federal Liberal MP is running 14,500km around Australia in support of the "yes" vote in the Voice to Parliament referendum. Source: The Catholic Weekly. 
He said the one thing pushing him to put one foot in front of the other is his faith.
Prime Minister Anthony Albanese and Tasmanian Premier Jeremy Rockliff farewelled the 61-year-old as left Hobart on Monday to begin the journey. Mr Farmer will run the equivalent of two marathons every day for six months in what he describes as his "most important cause so far".
He said running is his vocation and he never underestimates the power of prayer which has helped him complete some of the world's toughest road races.
"Literally every kilometre I run is another decade of the Rosary, it's the one thing that gets me through some of my darkest times," he said.
"Sometimes when I'm doing it really tough, I say 10 Hail Marys, an Our Father and a Glory Be and that's another kilometre done. And on some of those really, really hard days that's the only thing keeping me going."
Mr Farmer will run around Tasmania before flying to Perth and making his way up the west coast to Broome, Darwin and across to Townsville.
From there, he will run down the east coast to Brisbane and then on to Sydney and Canberra before making his way to the Red Centre and meeting the Prime Minister at the finish line at Uluru on October 11.
The former Liberal MP, who held the Sydney seat of Macarthur from 2001 to 2010, said he was passionate about the referendum as he had seen first-hand the need in health, housing, and education in Indigenous communities across the country during his ultramarathon career.
FULLS STORY
Rosaries on the run: Pat Farmer's 14,500km marathon for the Voice (By Debbie Cramsie, The Catholic Weekly)
RELATED COVERAGE
Running for the Voice to Parliament (SBS News)